"We are THE Place to Go in Puerto Plata"
We play Classic Oldies from the 70s, 80s & 90s.
#1 of the Top 100 Places to Eat in Puerto Plata
from Client
Reviews
on

#1 of the Bars & Pubs in Puerto Plata
I own Big Lee's Beach Bar
We are located in Puerto Plata, Dominican Republic. Amber Cove, the Carnival Cruise Lines Port
is also very near Puerto Plata.
I retired from Chicago, United States to live here in Puerto Plata over 7 years ago. After two years of being bored with "just being retired" I opened Big Lee's Beach Bar in September, 2011.
We have a great location on the ocean complete with beach, islands, fantastic food, great atmosphere and a very friendly staff
Hi! I am Big Lee
Our Speciality is
Beer-Battered Fish & Chips…
Simply Fantastic!!!
Our Hamburgers and Hot Dogs taste just like at home! None better anywhere in
the Dominican Republic!
Our French Fries / Chips are peeled and sliced AFTER you order.
Your french fries are fresh,
never frozen or pre-prepared.
And we also offer B.B.Q. Chicken Sandwiches, Grilled Cheese Sandwiches, Beer-Battered Fish Sandwiches, Club Sandwich and Grilled Ham & Cheese Sandwiches.
Breakfast available from 9:30 a.m. to noon.
How to find Big Lee's Beach Bar?
We are on the Malecon.
Malecon translated is boardwalk,
or road along the ocean
On maps, the Malecon is called
Ave. General G. Luperon - but everyone
here calls it the Malecon.
Every taxi driver knows where the Malecon is, too.
There are 10 identical buildings, "casettas"
on the BEACH SIDE of the Malecon.
FIND US by looking for all of our FLAGS
… and our
LOGO Sign
above the
front windows!
I own the LEFT-HAND SIDE of the building.
Be sure to sit at my Bar & Grill,
not my neighbors, lol, lol…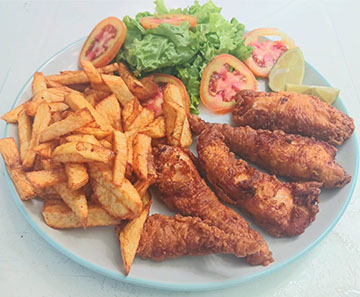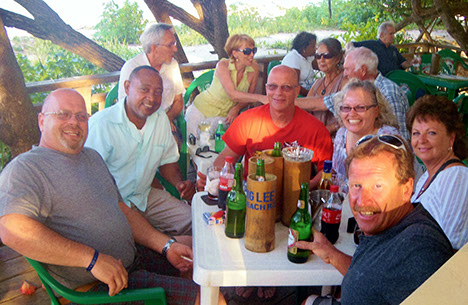 Our friendly staff welcomes you to Big Lee's.
(L-R) Madelin, Gina, Mariela, Yulissa and Elizabeth.
We always have Happy Clients!
We are actually a great bar on the ocean
that just happens to serve fantastic food, too!!!
We have won the prestigious
"Certificate of Excellence" 5 consecutive years:
2013, 2014, 2015, 2016 and 2017

BIG LEE: PUERTO PLATA'S MOST LOVED EXPAT AND RESTAURATEUR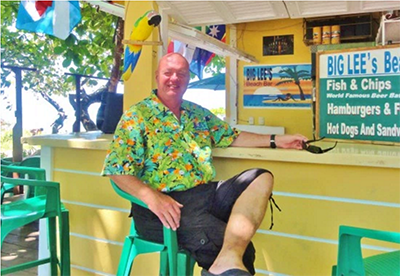 Meet Puerto Plata's lovable and local celebrity Big Lee Peak. Bored with his life in the south suburbs of Chicago, Illinois, Big Lee was within 3 years of retiring when he decided to start taking vacations to help him decide where to spend his retirement. "I saw a '60 Minutes' segment on retiring outside the US where your money can go further. I went to Cancun where I joined a timeshare and then to Puerto Plata and Punta Cana. I'm so glad that I chose
Puerto Plata; it is a real town with real people with real culture and history."
From our Client Reviews on tripadvisor, we are rated 5 Stars ...
#1 of the Bars & Pubs in Puerto Plata
#1 of the Top 100 Places to Eat in Puerto Plata
Sit on our deck
under the almond trees just steps away from the ocean and our beach. Enjoy the islands and Neptune, too. Watch the waves on the ocean, some days with wind surfers… or enjoy the mountain,
over your shoulder.
And, our photos are not nearly as beautiful as it truly is… a true paradise.
Come to Big Lee's Beach Bar, relax, enjoy the spectacular views, our classic rock in the background, have an ice cold beer and enjoy our fantastic food at affordable prices.


Inside Puerto Plata Website:
• #2 of "Top 10 Things To Do in Puerto Plata"
• #1 of "Where to Eat in Puerto Plata"

Sunflyer, the in-flight magazine for
Edelweiss Airlines of Switzerland
• #6 of "Top 10 Bars at Edelweiss
Destinations" Around the World.